ERSA Web conference thank you, upcoming Events, rencently published, new videos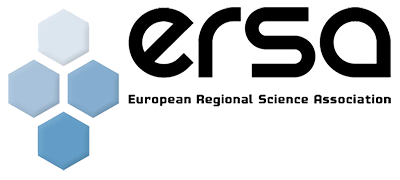 ERSA 2020 Web Conference An International gender-balanced event marking our valuable experience in keeping the regional science community together
Dear Members, Dear Colleagues,
We are extremely proud of the great success of our ERSA 2020 Web Conference.
It has proven the expertise of ERSA in organizing big scientific events in spite of difficult conditions, and also the possibility to reach gender balance goals for the speakers and the attendees.
We are grateful to our fantastic Speakers' line up including our roundtable panelists but also to all our presenters for contributing to the very rich content agenda we delivered online between August 25 and 27. It revealed once again how much regional science research is multiple and valuable for providing society, and policy makers with new keys, innovative solutions to explore and implement.
Although we all missed the real onsite interaction and networking, this high-level Conference was highly beneficial for young scientific and senior researchers.
Now ERSA is ready for new challenges, with your help.
We wish you all a good reading and opportunities of this enews.
With best wishes
André Torre
ERSA President
Key figures of participation
Benefit from outstanding resources of #ersa2020
| | |
| --- | --- |
| | We are happy to share with you the recordings made during the ERSA Web Conference 2020 including the 7 Keynote Lectures, 2 Young Scientists Sessions and Special Session on REGION. |
> Already available!
·    Watch Alessandra Faggian Presentation on «Resilience and Inner Areas: is #COVID19 an opportunity or a threat?«
> Broadcast shortly on ERSA YouTube Channel
Keynote Lectures and Roundtable
·    10-09-2020 «Regional Imaginaries and the 'Europe of the Regions' Project» by Simin Davoudi, Newcastle University, United Kingdom
·    17-09-2020 «The Making of the Modern Metropolis: Evidence from London» by Daniel Sturm, London School of Economics, United Kingdom
·    24-09-2020 «Designing Smart Specialisation Strategies with Sub-Saharan Africa» by Mafini Dosso, European Comission JRC, Spain
·    01-10-2020 «Cities in a Post-Corona World» by Pierre-Alexandre Balland, Utrecht University, the Netherlands
·    08-10-2020 «Post-urban regions after the pandemic: cyclical vs. irreversible forces in spatial development» by Hans Westlund, KTH Royal Institute of Technology, Sweden
·    15-10-2020 «On today's regional development challenges: growth, inclusion and sustainability» by Raquel Ortega-Argilés, University of Birmingham, United Kingdom
·    22-10-2020 Roundtable on «Regional Science and the COVID» chaired by Bert Kuby with Dorothée Allain-Dupré, Rune Dahl Fitjar, Anne Green and Philipp McCann.
2 Young Scientists Sessions
·    29-10-2020 Young Scientist Session 1 chaired by Katarzyna Kopczewska, University of Warsaw, Poland
·    05-11-2020 Young Scientist Session 2 chaired by Eveline van Leeuwen, Wageningen University, The Netherlands
Special Session on REGION
·    12-11-2020 «REGION – The journal of ERSA» by Gunther Maier and Sébastien Bourdin
Satisfaction Survey results
We are very happy to share the satisfaction survey which shows a very good result on our first web conference in terms of the programme and the technology logistic. We are also very proud to have organised a gender-balanced international web conference with almost 50/50 male and female participants.
We had 355 participants from Europe and beyond.
93.1 % of survey respondants are likely to recommend our future virtual conferences.
Scores for the degree of satisfaction include: (5 is the maximum)
The timetable of the programme: 4.09
Quality of the scientific content: 4.38
Quality of the keynote lectures : 4.20
Quality of the thematic Sessions: 3.98
Quality of the event platform: 4.32
Less than 50 % of attendees could network virtually during the event therefore the networking function will be improved.
We appreciate the feedback of our participants which will directly help us to improve our future programmes. We make notes of every single response that we receive, and your feedback really makes a difference.
Signe Jauhiainen, @signejauhiainen Aug 25

«Great possibility to learn what's going on in regional science, especially in migration topic.»
Maria Kubara @kubaramaria, Aug 27

«A great news! Wondering how much is it influenced by the form of the event and the possibility for women 'not to travel' away from their home based chores. Yet it's good the change comes #ERSA2020 congrats! #genderbalance»
Kerem Y. Arslanlı, @arslanli Aug 27

«Great online conference…many thanks to all organisers. For reference to our future events I connected on pc, a,droid and 3 different platforms all went well. What I loved the most is, all presentations just in perfect timing»
Pièrre-Alexandre Balland, @pa_balland Aug 27

«Thanks to the @ERSA_org organizing team for keeping our community together with an inspiring online event during these difficult times. Videos of the plenary session coming soon :)»
Regional Development – Eurac Research @EURAC_RegDev, Aug 28

«#ERSA2020 was a blast! thank you for the great experience

@ERSA_org»
Connect with us and follow our social media now!
| | |
| --- | --- |
| | To all keynote lecturers, Roundtable panelists and Presenters. This success is first and foremost yours! |
We are now ready heading to #ERSA2021 in Bolzano
«We are confident that we will be able to host you next year in our beautiful city in the heart of the Alps and see you next August in Bolzano!»
Andrea Omizzolo, Co-chair of the Local Organising Commitee