ERSA Unique Opportunities with upcoming Deadlines. Don't miss your chance!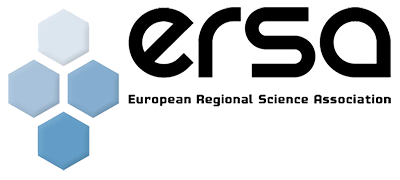 The issue contains:

·    ERSA2020 Call for Abstracts (and) Papers !

·    ERSA Summer School Sion – Call for Application

·    EURegionsWeek: University Sessions and Master Class on EU Cohesion Policy
2nd March > Abstracts Submission Deadline!
Dear Colleagues,

Only 10 Days left to make your submission for our annual Congress in Bolzano.

Select your topic among 65 Special Sessions Themes and 33 General Themes

Don't miss this chance to be part of the biggest Conference of regional scientists worldwide!
> Confirmed Keynote Speakers
Professor Pierre-Alexandre Balland, Utrecht University, Netherlands
Professor Rosella Nicolini, Universitat Autònoma de Barcelona, Spain
Professor Laura Resmini, Università degli Studi di Milano-Bicocca, Italy
Professor Daniel M. Sturm, London School of Economics, United Kingdom
Professor Hans Westlund, KTH Royal Institut of Technology in Stockholm, Sweden
> About the Topic

Hear more about the importance of attending the Congress with

Eveline van Leeuwen, Hans Westlund, Andrés Rodríguez-Pose, João Romão, Sébastien Bourdin 

#megatrends #scenarios #regionalscience #territorialfutures #changingworld #globaltrends #regionaltrends #Europe #sustainability #marginalregions #regionaldevelopment
6th March > Summer School Application Deadline
> Target
·    Are you a smart PhD student or junior researcher with less than 10 years of research experience?
·    Are you looking for close interactions and feed backs among participants and top senior researchers as well as internationally recognized analysts?
This event is for you. Get ready to submit your application by 6th March.
Places are limited to 25 participants.
The promising programme includes prominent Scholars in the field:
> Master Class
Philip McCann, University of Sheffield, United Kingdom
> Hot Issues Lectures regarding sustainability in tourism and manufacturing
Marie Delaplace, University of Marne-la-Vallée, France
Alessandra Faggian, Gran Sasso Science Institute, Italy
Michael Hall, University of Canterbury, New Zealand
Bernhard Truffer, Utrecht University, the Netherlands and Eawag, Switzerland
Ugo Fratesi, Politecnico di Milano
> "Regional Science fundamental Lectures" 
Antoine Bailly, Professor Emeritus, Past President of RSAI
Olivier Crevoisier, University of Neuchâtel, Switzerland
Céline Rozenblat, University of Lausanne, Switzerland
> Programme Focus: new research on regional and urban development, with renowned academics and researchers in the field of EU cohesion policy and related policies from different European countries.

> Proposals Submission Deadline:

11th March 2020, 5pm CET more
> Target: PhD students and early career researchers in the field of regional and urban policy.

> Call for Application Deadline:

4th May 2020, 11am CET more