ERSA News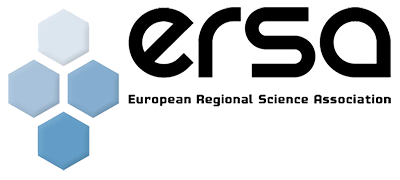 27th November 2019 – Nr 12
The issue contains:

·    ERSA2020 Call for Special Session Proposals

·    Publications News and ongoing Calls

·    Call for Consultation

·    Upcoming events
Word from the President
Dear Members, Dear Colleagues,
Back from NARSC Conference in Pittsburgh, where I had the pleasure to meet colleagues and discuss further the evolution of the RSAI-ERSA Unique international Regional Science Network! Good steps forward are being made for future scientific developments.
One of the major strength of our European Association is certainly its sections and local events, which fulfill specific needs of their communities. This month, the Dutch and Spanish Sections successfully organised tailor-made events: RSAN Autumn Day (21 Nov) and AECR XLV International Conference on Regional Science (20-22 Nov).
At the ERSA level, the preparations for next year's ERSA Congress in Bolzano are intensifying with the close collaboration of EURAC and AISRE to ensure another great Congress. Not to mention our 2020 Summer School in Sion (Switzerland), supporting early-career regional scientists with state-of-the-art lectures and enriching exchanges.
Please do contact us for further needs, or join ERSA, the largest network in Regional Science in the World.
Yours,
André Torre, President of ERSA
ERSA2020 Call for Special Session Proposals
Not yet submitted your proposal?

As confirmed by past participants, Special Sessions provides value added to the Congress. Don't miss this chance to be a contributor of the biggest event of Regional Science worldwide!

We look forward to receiving your proposals

Thomas Streifeneder and Andrea Omizzolo

Co-Chairs of the Local Organising Committee (LOC)

Deadline: December 9, 2019 more

Follow the event on twitter @ERSA_org #ERSA2020
Recently published in REGION, the Journal of ERSA
REAT: A Regional Economic Analysis Toolbox for R
by Thomas Wieland, Karlsruhe Institute of Technology (KIT), Institute of Geography and Geoecology more
REGION has a new Website! Do not miss the opportunity to be published in REGION! REGION is open access. It is freely available to readers and does not charge submission or publication fees from
authors.
2020 RSPP Paper Award
An urban metric system based on space‐economy: Foundations and implementation by Luc‐Normand Tellier and Jérémy Gelb and
Transport‐induced agglomeration effects: Evidence for US metropolitan areas by Patrícia C. Melo and Daniel J. Graham
more See also ongoing RSPP Calls for Papers and upcoming deadlines!
ERSA Members publish
Rethinking input-output analysis. A spatial perspective
by Jan Oosterhaven, Professor Emeritus of Economics at the University of Groningen, The Netherlands
Springer Briefs in Regional Science, 2019
Publication date: December 2019
ISBN 978-3-030-33446-8 more
New publications to share?
Your are member of the ERSA Community and you have recently published a book, grasp this opportunity to inform us about it. We are looking for
·    Books published in 2018-2019
·    Written in English
Send an email to ersa.member@ersa.org
Special issue: European Planning Studies

Circularities in Territories

Submission Deadline: 15 December 2019

Special Issue: Journal of Labour Market Research

Spatial Dimensions of the Labour Market

Submission Deadline: 28 February 2020

Special Issue: Annals of Regional Science

Entrepreneurial Territories: Measures, Determinants and Outcomes

Submission Deadline: 29 February 2020
H2020 RELOCAL Invitation to take part in the current consultation on "How easy is it to implement this principle in your region?

10 normative principles reflected on European policies and initiatives for promoting #SpatialJustice #territorialcohesion #territorialagenda #cohesionpolicy #H2020

The consultation will remain active until November 27th. Participants will receive a full report with results soon afterwards
#SAVE THE DATE!

REGIO-ERSA Academic Lecture

Regional development theories and EU regional policy: an evolving relationship

5 March 2020, Brussels, Belgium

Speaker: Prof. Roberta Capello, Politecno di Milano
#MARK ON YOUR AGENDA!

33rd ERSA Summer School

Regions in transition, what implications for tourism and manufacturing?

15-19 June 2020, Sion, Switzerland

Call for Applications to start by mid-December. Stay tuned in.
>>> On ERSA Sections' Agendas
19th International Scientific Conference

Rethinking Regional Competitiveness

28 November 2019, Siauliai, Lithuania
German speaking Section: Winter Seminar 2020 of the Gesellschaft für Regionalforschung

15-22 February 2020, Matrei in Osttirol, Austria
Slovak Section: 10th Central European Winter Seminar in Regional Science

11-14 March 2020, Slovakia

Keynote speakers:

Eveline van Leeuwen, Wageningen University

Katarzyna Kopczewska, University of Warsaw

Registration and Call for Abstracts is now OPEN!
"The Giacomo Becattini Archive"

6 December 2019, University of Florence, Italy

Organized by the Library of Social Sciences of the University of Florence under the patronage of the Department of Economics and Business Sciences of the same University
2nd Scientific Workshop

Urban and Regional Economics

11 December 2019, ULB-Solvay, Brussels

Paper Submission Deadline: 1 December 2019
23rd Uddevalla Symposium 2020

11– 13 June 2020, Sweden

Save the Date!

This event is supported by ERSA
3rd European Rural Geographies Conference

Rural Geographies in Transition

22-24 June 2020, Groningen, The Netherlands

Paper Submission Deadline: 20 December 2019