ERSA News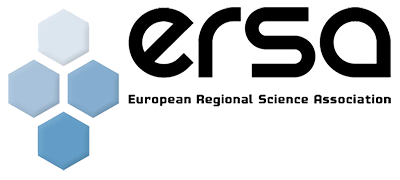 The issue contains:

·    60th ERSA Congress – 1st announcement

·    3rd ERSA Winter School: Call for Application reminder

·    Upcoming Virtual Section Events

·    Recently published by our membes and new video on YouTube
Dear Members, Dear Colleagues,
I hope your are all well and healthy.
Unfortunately the pandemic is still accellerating in Europe and the world. Most of us are requested to work from home, limit strongly social contacts and not travel.
In this respect, our ERSA Forum on the Impacts of Coronarivus is still open to welcome your contribution to this crisis and share it to colleagues.
In these difficult times, I am pleased to see that we keep going and meet virtually to exchange our research progresses which also includes the impacts of the covid-19 at different levels.
ERSA Office is working hard to maintain a high level scientific life and we are very pleased to announce that the next ERSA Winter School will be hold virtually in January in collaboration with the Joint Research Centre of the European Commission. If you are a young researcher please do not hesitate to apply!
Regarding our Annual Congress, we are making today our first announcement and we hope we will be able to meet in person next August in Bolzano. Fingers crossed.
Keep safe and healthy.
André Torre
ERSA President
The election of three councilors-at-large for the period 2021-2023. RSAI members to vote electronically.

Deadline extended until end of next week

>>>> Please support our European candidates.
| | |
| --- | --- |
| | The German Speaking section regrets to inform that the Winter Seminar 2021 of the Gesellschaft für Regionalforschung Is postponed to 2022 |
>>> Upcoming on ERSA Agenda
>>> Call for #ERSA2021 Special Session to start on 5 November 2020

Stay tuned to ERSA website for updates shortly.
REMINDER: Call for Applications deadline is 15 November 2021
>>> Upcoming Webinars on ERSA Section Agendas
Croatian Section: WIRE 2020 Conference

The future of resilient regions in the new ERA

4-6 November 2020, Virtual event I Zoom

Keynote Speeches by Roberta Capello and Andrés Rodríguez-Pose

Registration to attend the conference is free.
Polish Section: 0nline Seminar for Young researchers and PhD students

6 November 2020, Google Meet Platform

Event language: Polish
Romanian Section: International Webinar of the RRSA

The COVID-19 Pandemic and Proximity Relationships

12 November 2020, 6:00 PM (CET),Virtual event I Zoom

Guest Speaker: André Torre

Registration is free but mandatory.

Registration deadline: 9 November 2020
Russian Section – Online Conference

The World in COVID-19: The Impact of the Pandemic on the Development of Countries and Regions

20-21 November 2020, Virtual event I Zoom

Abstract Submission deadline: 10 November 2020

Registration is free of charge.
ERSA Polish Section: Annual Meeting 2020

Cities and regions in the face of contemporary challenges

4-5 December 2020, Virtual Event

Event language: Polish
ERSA YouTube Channel : Recently posted!
ERSA Web Conference 2020 REPLAY
This Young Scientists Session is placed under the umbrella of

ERSA2020 Web Conference

Young Scientists Session " Regional Development"

Session chaired by Katarzyna Kopczewska, University of Warsaw, Faculty of Economic Sciences, Poland

Cem Ozguzel, Senior Researcher, OECD and Paris School of Economics

Simone Grabner, Ph.D. Student, Gran Sasso Science Institute

Carolina Guevara Rosero, Associate Professor, Escuela Politécnica Nacional

>>>> Watch the video
Social Exclusion and Labour Market Challenges in the Western Balkans

Edited by: Will Bartlett, London School of Economics and Political Science, UK – Vassilis Monastiriotis, London School of Economics and Political Science, UK – Panagiotis Koutroumpis, Queen Mary University of London, UK
Applied Spatial Statistics and Econometrics.

Data Analysis in R

Edited by: Katarzyna Kopczewska, University of Warsaw, Poland
Urban Empires

Cities as Global Rulers in the New Urban World

1st edition

Edited by: Edited by Edward Glaeser, Karima Kourtit, Peter Nijkamp
New publications to share?

Your are member of the ERSA Community and you have recently published a book, grasp this opportunity to inform us about it. We are looking for

·    Books published in 2019-2020

·    Written in English

Send an email to ersa.member@ersa.org